"The View" co-host Sara Haines on Friday offered a nuanced, thoughtful explanation for the increase in mass shootings across the country, claiming that Americans not going to church anymore is contributing to the tragedy.
Rather than solely blame guns for the prevalence of mass shootings in America, Haines told her fellow co-hosts that cultural decline fostered by social media, porn, and video game addiction, along with a drop in church attendance, have eroded the "connection" and "empathy" between people.
She claimed that church helps foster in people a "morality component" and "duty to serve" communities and families, and claimed that lack of love in society seems to reflect the drop in church attendance.
A HISTORY OF THE REVOLVING CONSERVATIVE CHAIR AT THE VIEW: 'THE MOST DIFFICULT SEAT TO FILL'
The "View" co-hosts began talking about several high-profile gun violence incidents that occurred in the country in recent days.
In addition to noting that guns play a role, including legal and illegal firearms, Haines trotted out societal factors that may have contributed to the shootings. She first noted that the shooters have been majority male, but then went deeper, noting the factors that may make these perpetrators so violent and careless toward human life.
She began saying, "This is definitely a male problem. It's a gun problem. But I think looping them all together, you've got to take gun problems in lanes. There are criminal guns that are illegally obtained, there are legally attained weapons that are most common in honestly school shootings, then you've the Second Amendment."
She added, "You've got so many things that you can't look at it as one problem or you're never going to get to a solution."
JANE FONDA SUGGESTS 'MURDER' TO FIGHT ABORTION LAWS IN WILD APPEARANCE ON 'THE VIEW'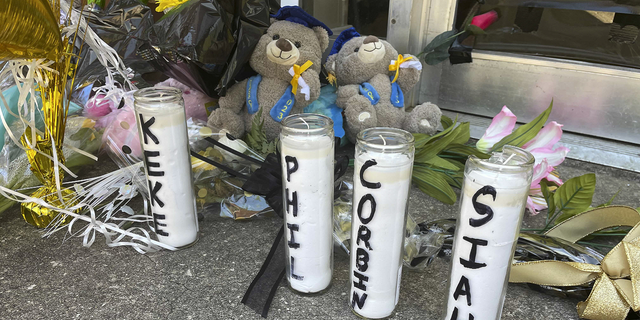 Haines listed some cultural "branches" leading to the shootings: "I think the obsession with social media – time spent on social media – the kind of numbing of something social that's anti-social. I think the consumption of porn, and now we're getting into the lane of a lot of male – of all ages – video games."
She declared, "A lot of these things are removing that humanity, that empathy, that connection."
The co-host then focused on the "degradation of the church" being a major factor. She said, "We're also watching the degradation of church. And I am not an institutional church person – I was raised in the church – I've got a lot of issues. But one thing you can say across all religions and most churches, is there's a morality component."
CLICK HERE TO GET THE FOX NEWS APP
She continued, saying, "There's a duty to serve to your community, your families, to people that are different from you. There's a lot of lessons there of giving, loving, not judging."
Haines then concluded, "We're seeing a major reduction in attendance and membership in that."